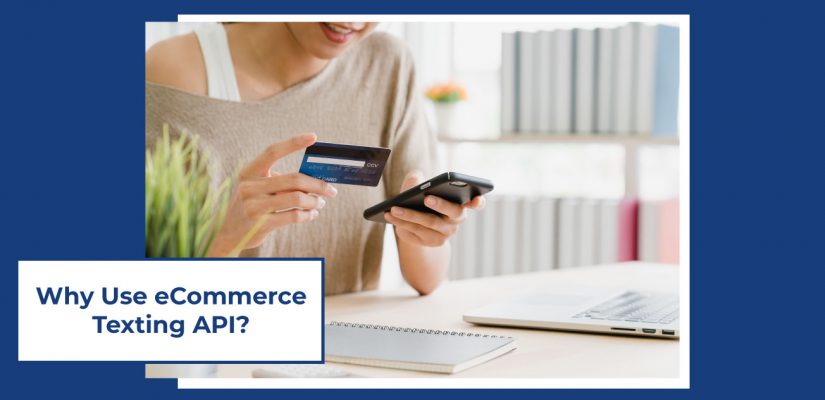 Why use eCommerce texting API
Even in the global pandemic of 2020, Ecommerce sales reached up to $4 trillion. Hence, it is safe to say that eCommerce is here to stay for a long time. Ecommerce has always walked hand-in-hand with email marketing. However, eCommerce texting has taken flight and businesspeople now realize that it seems much more convenient than any other channel.
Since the open rate of messages is up to 95%, it makes sense to send e-commerce texts for updates and transactional messages. Haven't heard of it before? Read on to know what wonders text API does for eCommerce sites. Let's get into the details of it.
Why use eCommerce texting?
Text marketing is an effective and powerful platform for every business. Almost everyone has a mobile which increases the instant-read factor. Even if someone has a simple phone, they can receive text messages. Hence, the open rate becomes higher.
Texts are always there on the phone, at least they catch the attention of the customer when a notification pops up. If not at the moment, texts are read later which is why they have the highest open rate. This is how businesses get all the engagement from. Ecommerce sites can increase sales and efficiency because of their improved customer experience via text API.
Another reason why you should pick eCommerce texting is for transactional messages. Transactional messages are done against a trigger. This means that when a customer makes an action on your e-store, like buying something, you can set up an API to instantly send a confirmation message.
Improved Customer Experience with Ecommerce Texting
Customer management, sales, and marketing work side by side. Customer management is as important as marketing. As texts are direct, they are perfect for engaging customers. Apart from enticing customers, text can be used for a better customer experience. It's the best way to keep in touch with customers, especially for eCommerce sites. You can text them the moment they purchase from your e-shop till they receive their order. There are numerous ways how you can make a good impact on customers. The first thing to remember is that potential customers should be happy with your services. This can only happen if they are satisfied with their experience with your e-store.
Remember, a satisfied customer will more likely to purchase again from you. Moreover, you can convince them to opt-in for promotional messages. This way you will get a new high intent lead. An improved customer experience is crucial for your business progress. There are many ways you can do that. You can send order status texts or you can ask for feedback.
Benefits of text API for eCommerce
Texting is omnipresent and has a wide reach. Therefore, you can target a large audience through texts. What makes texting authentic is that it's personal and direct. As an e-store owner, you can make the most from e-commerce texting. It's worth the hype as you can learn its benefits and use cases down here:
Order updates

Once you integrate text API into your eCommerce site, it's really easy to send texts. When a customer makes a purchase, you can send them the order updates. Remember, informed customers are happy customers. You can send them a personalized text of their order. Moreover, you can add the delivery date to it as well. If the customer gets satisfied with your order status updates, it results in customer retention as well. This can highly amp up your sales game.


Payment information texts

When your customer uses their cards to shop online, they deserve a confirmation. Ecommerce texting allows you to send these updates as soon as you receive the payment. This helps the customer keep a record of their payments along with their order number.


Delivery notifications

If you ever shopped online then you know the excitement and anxiety of receiving the order. The only thing that makes it bearable is the updates that you get. Ecommerce stores can set up an API to send delivery updates. These can be on the day of the delivery so that they are ready to receive the order. Moreover, if there is a delay, send an update on that too. This allows customers to be mentally prepared. Updates fall under customer satisfaction and eventually – retention.


Flash sales/ Time-sensitive offers

As a marketer, you probably know that flash sale and time-limited offers are game-changer. They create a sense of urgency that results in fear of missing out which leads to impulse buying. These offers from favorite brands on favorite products are crazy enticing. You can send coupons and flash sales text to drive enormous sales. Since texts are a powerful engaging tool, they lure customers to your brand. This results in long-lasting customer loyalty.


Promotional texts

You can send promotional texts by using an integrated API. For instance: you can inform customers about new products at your e-shop. Moreover, you can offer them discounts on their purchases. Since text messages are direct and instant, you can receive almost instant ROIs. Moreover, if you use a service like TheTexting, you can also send out MMS promotions. Another way to go about it is to add the link to your e-store in the message. This way, your audience can make direct purchases.


Customer satisfaction

Customers' feedback is an integral part of any marketing strategy. Text API offers two-way messaging that helps you take feedback from the customers. Furthermore, you can send surveys and polls to the customer about best-selling products. This way you'll learn about their opinion and it also has a positive impact.
Begin eCommerce texting with TheTexting
If you haven't already integrated API to your e-store, it's time to consider it now. Boost your e-store with enormous sales via eCommerce texting API. Integrate now with TheTexting and see the wonders of it. TheTexting gives you a reliable API service to send out messages instantly.